Screw Drive Wood Splitter Plans
Screw type log splitters utilize the concept of screwing a splitter tip that is pointed and tapered back to a wide spade that forces the wood apart as it is screwed into the log. It is a simple concept that allows many power options to propel the device.
Screw Powered Wood Splitters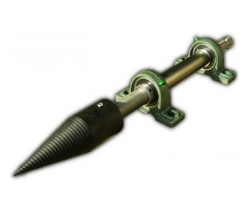 There are several benefits to using a screw type log splitter rather than a conventional hydraulic or electric wood splitting system.
First, they are easy to use, safe, affordable, easy to maintain, and have a fast production rate for getting the job done. This type of splitter offers a replaceable tip that is made to last forever since they are made from heat treated steel.
Home Made Screw Type Wood and Log Splitter
Build Your Own Screw Drive Log Splitter
The idea of a screw type penetrating device for wood splitting has been around for a long time. The general design includes a large steel auger with a special steel screw tip to pry into a log. This in turn forces the log to split.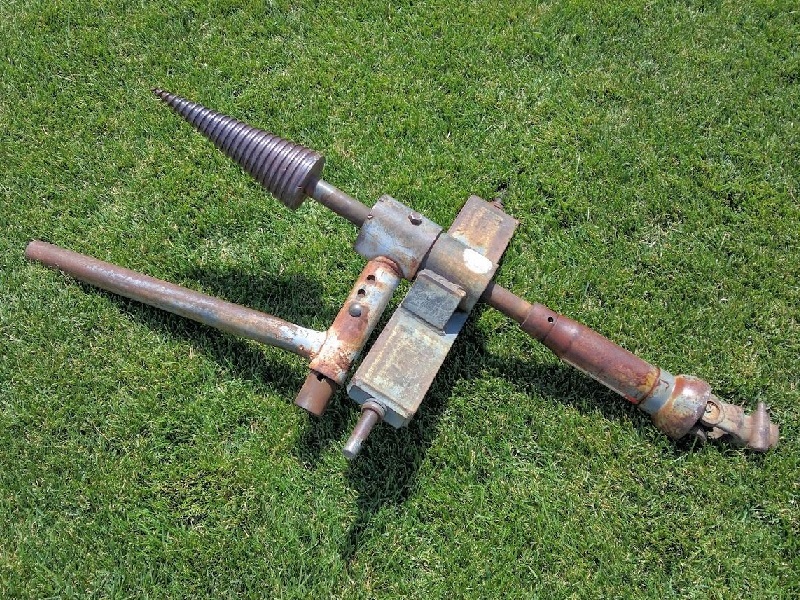 This type of Tractor Power Take Off Screw Type Wood Log Splitter uses a conical cone shaped unicorn splitter bit that works in an entirely different way than common day hydraulic splitters.
Main components include the 3-point attachment frame, power takeoff universal attachment assembly with shaft, bearing, and bit, along with a stopper brace to keep the log from spinning.
Typical Construction
High strength solid steel tip construction with deep precision machined threads. Flared to allow separation as splitter cone penetrates.
Tips made from heat treated steel for long lasting life with standard diameter coupler to fit typical rotating attachments.
Simply put, a precision machined threaded screw penetrates into the log forcing it to split. No down pressure is necessary as the screw tip pulls the log into the auger. Steel tips are replaceable and can be sharpened with an ordinary chain saw file!
click to enlarge unicorn splitter design pictures
Designed Features:
High strength steel construction with precision machined threads
Reinforcement center spine with heavy wall tube
Replaceable chrome plated alloy steel tip can be sharpened with ordinary chain saw file
Various heavy duty adapter plates fit virtually any domestic or foreign car or small truck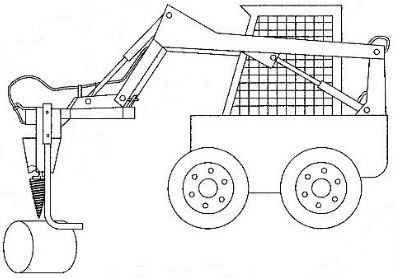 Efficient Log Splitter Designed
Screw type wood splitters are sometime used by bolting them to the hub of a car or truck. By harnessing the vehicle's engine for power, they can split logs far faster and more efficiently than any self-powered splitters, either hydraulic or screw-type.
There is no more strain placed on your vehicle's engine or drive line than a leisurely drive down a common level city street. You can split a large supply of wood with very little effort or fuel.
The cost of this type of splitter is only a fraction of that for a less efficient self-powered hydraulic splitter. Rugged construction and design makes splitting wood a breeze.
Screw Type Log Splitters can be powered in many ways including electric powered, or by gas as in the thumbnail pictures above.Other options include pto driven like on the skid steer above, or other mechanical options including units like the Stickler Splitter that attaches to the wheel hub of a car. These screw drive options give you a variety of power choices.