Vertical Wood Splitter Plans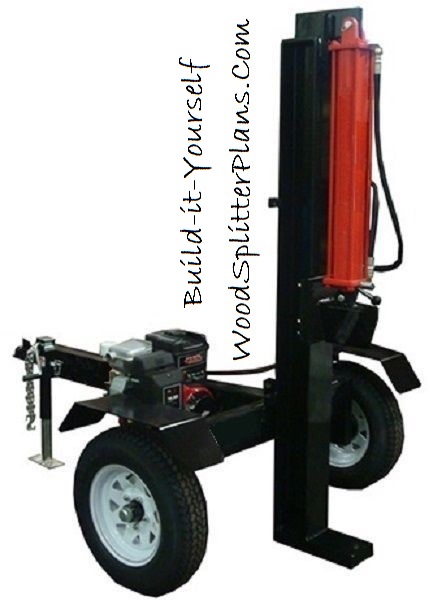 Vertical wood splitters utilize the effects of placing a log in the upright position on the splitter with a ram that pushes a spade down into the log to split it.
Vertical Splitter Advantages:
Vertical log splitters are sometimes easier to use due to the fact that you don't have to lift the logs up as far to place them on the splitter. A vertical log splitter requires the logs to be standing up, so rolling the logs into place on the pad which is at ground level can be easier than lifting them into place.
Vertical log splitters also offer a more stable platform when you are going to be working on uneven ground or slopes.
Read more about your log splitter tonnage choice in these links here, or purchase a set of plans below
Vertical Plan Descriptions: 20 Ton Vertical Plans, 25 Ton Vertical Plans, 30 Ton Vertical Plans, 35 Ton Vertical Plans, 40 Ton Vertical Plans, 45 Ton Vertical Plans, 50 Ton Vertical Plans
Vertical Wood Splitter Disadvantages:
One disadvantage to Vertical Log Splitters is that the wedge is forced into the log which means it can get stuck in a partially split log and pulled back when the hydraulic cylinder is retracted.

Low Low Prices!!! Purchase A Set Of CAD Design Vertical Log Splitter Plans Below!
Universal Horizontal or Vertical Wood Splitter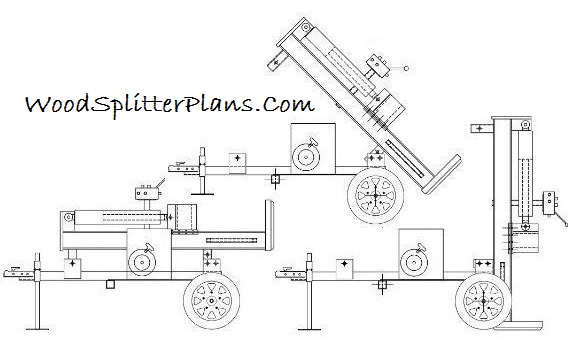 When I decided to jump in to wood splitting, one question I had regarding log splitters was, what is more important when using one, having the horizontal option where the wedge is stationary, and the wood is pushed out of the way while it is being split (and you can put a 4 way wedge on it), or having the wedge be the moving part, and being able to split both horizontal and vertical? My final decision was a universal horizontal / vertical splitter.
Now I have a splitter that is either horizontal or Vertical. I use it mostly Vertical since I don't have to lift large logs into place. I can stick the edges under the splitter and just nibble away. In the vertical position, this splitter is designed for handling large diameter wood with ease, reducing the need for heavy lifting. Or use it in the more traditional horizontal position. Personally, I would get one that works both, in the vertical and horizontal positions because when standing next to a wood pile and pulling the small logs off the top you do not have to bend over to split them or pull them off the machine. But, you can still roll the big pieces over and not lift them.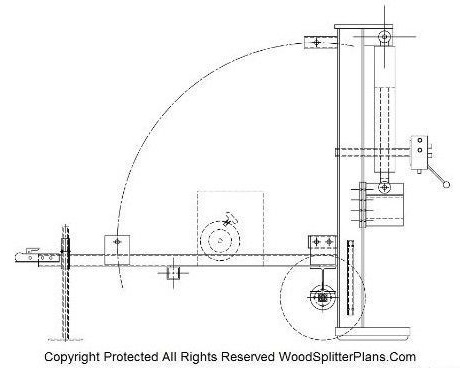 Here is a rough list of parts needed to build a splitter with some approx costs.
Standard Vertical Log Splitter Construction Components Include:
4 x 24 hydraulic cylinder 175.00
11gpm 2-stage pump 150.00
pump mount bracket 40.00
hydraulic hoses 50.00 min
auto return control valve 80.00
hydraulic oil filter 20.00
hydraulic fittings 50.00 plus
hydraulic fluid (5 gal. min.) $5 gal
gas or electric motor 300.00
axle with wheels, tires, and fenders
2" hitch with safety chains
6" I beam
8" steel cutting wedge
misc. materials
Choose you motor carefully, there are many different types of electric motors with the same hp. rating. Some will fail quickly while others may last forever. When the correct type of electric motor is used, hp requirement can be reduced by 1/3 For 2-stage pumps 1/2 hp. per gal. is required.
For single stage pumps 2-3 hp. per gal. is needed.
When you go vertical be sure to put the flat foot on the bottom of the upright I beam. Makes it a lot easier to place the flat end of a log upon a flat foot for splitting. I've seen some splitters built with the wedge on the bottom. That design is fine for a horizontal splitter but not for a vertical one. Must be fun trying to balance a log on the edge of the wedge in those cases.