Hand Held Slide Hammer Wood Splitter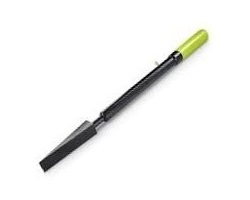 The Sliding-Hammer Pounding Force Splits logs easily in seconds with a powerful weighted slide hammer action. Replaces axes, wedges and mauls for easier control. Rubberized vibration resistant handles soften your hands from shock and vibration.
buy a slide hammer wood splitter >>
Split logs with incredible ease and enhanced safety by placing the wedge tip on a log, then slide the hammer shaft up and down to split the log in seconds. No more dangerous overhead swinging, broken axe handles, and flying or jammed wedges.
Strong heavy-duty construction allows you to split logs easily with powerful sliding hammer action by holding onto a comfortable rubberized grip on the slide travel shaft for easy wood splitting.
Without using a power tool, this type of wood splitter offers the easiest way we have found to split wood with accuracy. This type of manual splitter will also split logs that are cut at an angle - something that is problematic with a wedge and sledge hammer.
Sliding Hammer Handle - Manual Log Splitter Plans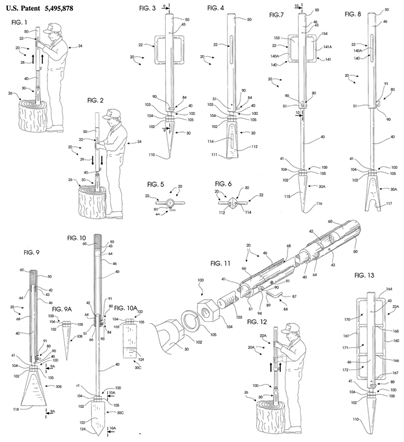 Patent # US 5495878 A
click to enlarge >>
This style unit is generally designed to allow the tapered end of the splitter to be locked from extending by setting a screw on the shaft. Well built units also include a rubber handle for comfortable use, and stops that keep the tapered wedge end rod from coming out of the splitters sliding hammer shaft.
This manual type slide hammer device for splitting wood is comprised of an outer, elongated sleeve that internally receives a rigid wedge control rod. The sleeve may be equipped with handles for easier grip by a user or just a rubber handle cover to grip and hold on to when operating.
To operate, it is first manually lifted upwardly and then forcibly drawn downward. An internal weight added to the top of the sleeve offers additional force in the downward motion that slams into the shaft rod when the sleeve is hammered downward.
While many of these units have a fixed splitter head, sometimes, alternate cutting heads including wedges, root cutters, or an asphalt hammer are able to be attached and replaced as needed for different projects. Typically, a selected tool is coupled to the shaft through a quick release collar system. Smooth operation is insured by guides placed between the shaft rod and the sleeve hammer, while a venting orifice facilitates periodic oiling.
Build a Hand Held Sliding Hammer Wood Splitter
Technically, it's cheaper to buy a slide hammer wood splitter than to build one.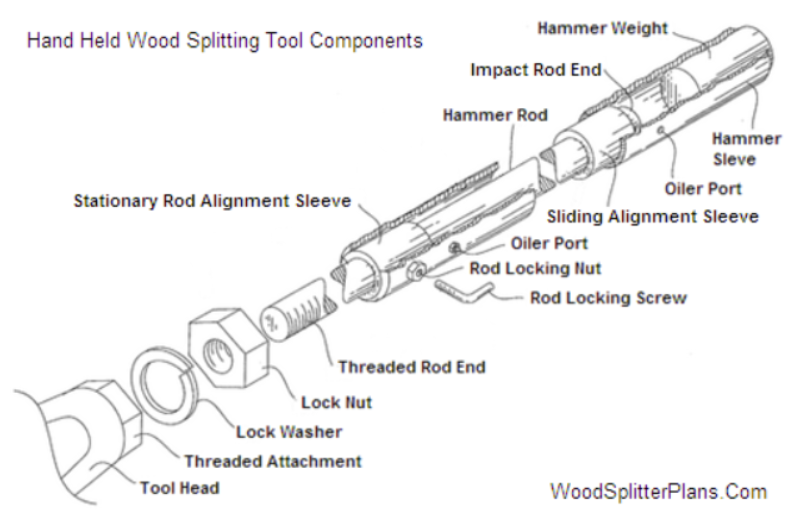 Some units may be designed with the shaft rod fitting closely inside the sleeve hammer that incorporates oil ports or grease fittings instead of additional internal sleeves. However, in either construction method, if the shaft tool rod is damaged when extended and exposed, it could hinder smooth operation of the sliding shaft motion and result in binding or sticking.
While this type of splitter can be safer than swinging an axe, It is also easier to use based on the fact that you just let gravity and the weight of the slide hammer do most of the work for you.
The sliding-hammer manual splitter uses a splitting wedge attached to a solid steel rod with a sliding hammer action sleeve that drives the wedge down through the wood to split it.
This type of splitter is inexpensive, compact, lightweight, and easy to transport. It's a great choice to use for splitting smaller diameter logs, softwood, and smaller amounts of hardwood.
To use this type of sliding hammer wood splitter:
Stand a log upright and place the splitting tip of the splitter on top of the log.
Grip and slide the hammer sleeve handle up, and toss the hammer downward. Repeat this several times until the wedge splits the wood in half.
When the log is almost completely split, use less force.
For safety purposes, always carry your slide splitter by the handle with the wedge up. This will prevent the sliding rod and wedge from dropping on your foot when not locked.