Campfire Firewood Splitter Choices
Quality Craft Foot Operated Firewood Splitter - 1.5-Ton Capacity, Model # LSF-001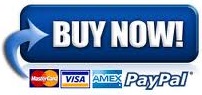 This fire wood splitter operation works flawlessly for small to medium size logs. The top log guide prevents you from trying to cut something longer than the splitter can handle.
Campfire Firewood Splitter Review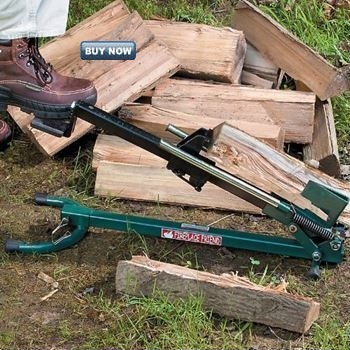 Generally appears to be designed for 12-inch logs and smaller. This firewood splitter works great for small logs and large limbs.
You will also appreciate its ability to cut "wet", heavy, unseasoned limbs that are 5 to 6 inches in diameter, and small logs even if they were cut at an angle. This is great because these would be somewhat difficult to split with a heavy weight maul.
All you have to do is stomp your foot a few times and as quick as that your campfire wood is cut.
This firewood splitter is lightweight, easy to transport, and does not require two people to handle it. Quality Craft Foot-Operated Firewood Splitter Features:
This Firewood Splitter operates by car-jack action for safe, easy log splitting.
This Fire Wood Splitter can handle logs up to 18" Long, and 10" in Diameter.
This Log Splitter is light weight and folds for easy storage or transportation.
Foot Operated Firewood Splitter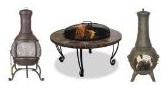 If you don't always wanting to swing an axe so this is my camp fire wood splitter of choice. As a Foot Powered Fire Wood Splitter you can split far more wood without getting tired than when swinging a maul or axe. If you are going to split lots of wood for a bon fire, this is a much safer way than swinging an axe. Splitting wood for your fire pit is quick and easy so this is a great tool to have for campfires and fire pits wherever you are, out camping or in your back yard.
---
The Smart Splitter by Bailey's Power Equipment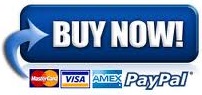 This log splitter is designed to clamp down on your wood holding it in place so it can be cut quickly, easily, and safely. It is easy to handle, transport, and store so it's a great option for around the home.

Smart Splitter Log Cutter Review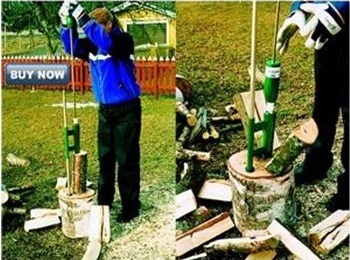 To use this wood splitter you simply place the splitter on the log to be split and lift the weight then release it letting it slid down the shaft and drive the wedge into the log. Several blows may be necessary on heavier more dense wood.
This splitter is remarkably easy to use and is able to split any diameter size log with multiple blows. Plus, you don't have to worry about missing anymore since this splitter is designed to be placed directly on top of the log.
I'm not an expert on splitting wood, but this tool is both a very safe and easy to use log splitter. The safe operation of this tool is due to the way it holds your log upright as it operates without getting any body parts in the way of it's sliding weight that ravels down the shaft as you let go of it.
With several thrusts of the hammer part weight from the of this Smart Splitter you can split larger diameter logs safely and efficiently. This splitter gives you excellent control that allows you to split pieces of wood to very small parts for your fire-pit or campfire. You can continue to split each piece until it's down to the size you want including kindling. This splitter does NOT deflect off of logs cut at angles making it very safe. This Bailey's Smart Splitter is a great choice for your Outdoor Fireplace or Back Yard Chiminea to get you stocked up with wood for a cozy outdoor party or relaxing with an evening cocktail.
If your looking for a safer and easier way to split wood for a wood stove or fireplace this is the tool. I would say it is a save tool for your kids to use with a little instruction to get them going.
Make Your Back Yard A Great Hangout With A Fireplace, Fire Pit, or Chiminea
Splitting firewood for back yard enjoyment makes the job a lot more exciting. Today's choices for fire pits and campfires are endless and offer choices for any home, deck, patio, or back yard arrangement. Chiminea's come in all sorts of shapes and sizes to fit your needs.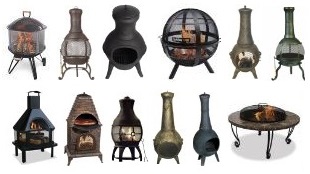 Choose from many Chiminea and Open Fire Pit Options to give your yard a warm and cozy place to socialize or stargaze as you enjoy the comfort of a crackling fire with the firewood you split to enjoy a relaxing, romantic, or social event.
Working all day can get the stress up, but splitting some wood and sitting down around an outdoor fire with a evening cocktail can relieve that stress in minutes. enjoy your evening at home!