Firewood Processor Plans
Firewood Processor Plans for Cutting and Splitting Large Quantities Of Wood For Commercial Firewood Production
The handy mans tool for producing mass amounts of firewood just happens to be a Firewood Processor. It happens to be the essential tool for safely and efficiently cutting and splitting large volumes of firewood.
Unfortunately these machines are very expensive to buy. However, most handy man homeowners may be able to construct their own firewood processor for just pennies on the dollar compared to firewood processors you find on the retail market today.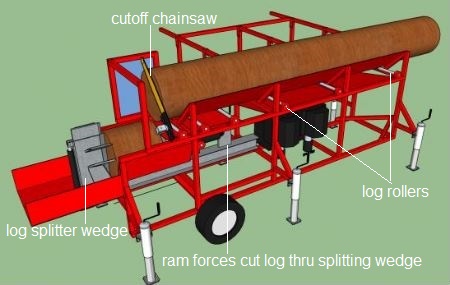 Building your own firewood processor will no doubt save you some serious cash, and in turn, allow you to enjoy the benefits of fully automated firewood processing, including cutting large logs into firewood length, then splitting them.
Perhaps this can even lead to substantial profits as well should you find your neighbors and others are interested in purchasing their firewood from you!
To build a homemade firewood processor it's good to start with a set of firewood processor plans that can help you design and fabricate a good quality firewood processor right in your own workshop or garage.
Tools You May Need To Build A Firewood Processor
Welder - arc or mig welder
Cutting torch - acetylene
Hand tools - wrenches, spanners, etc.
Power tools - drills, cut off saw, grinder etc.
Firewood Processor Components
Hydraulic motors, Hydraulic cylinders
2-way, 4-way, 6-way, 8-way splitting wedge (hydraulically actuated)
30" harvester bar / .404 chain / 15 tooth sprocket / run hydraulically
22 HP Kohler hooked to a 18 GPM pump to run the saw,
In-feed, wedge lift, log clamp (not shown), In-feed rack lift
18 HP B&S hooked to a 28/7 GPM 2 stage pump to run the splitter
2 motors allow for simultaneous cutting and splitting
You will need to choose the type of equipment that you want to power your firewood processor. Do you want the firewood processor to be hydraulic, electric, pto driven, or a mixture of these.
Firewood Processor Splitting Wedge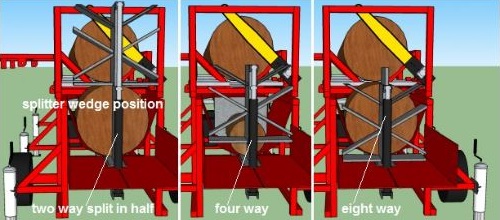 With a firewood processor, there is no doubt you will be splitting all different sizes of logs. The diameter dictates how many splits are needed to whittle your log down to the proper size to fit in a wood stove or fireplace. For this a multi position splitting wedge like in the diagram above is the perfect solution.
Firewood Processer Dimensions
Here are some measurements for the framework of a fairly good size firewood processor that can handle solid 2 foot diameter logs. Click pictures to enlarge.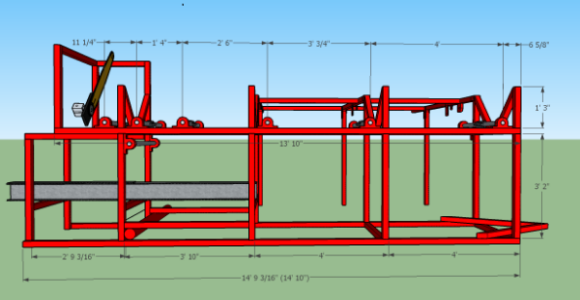 16' long log capacity | 24" diameter log capacity | 24" splitter capacity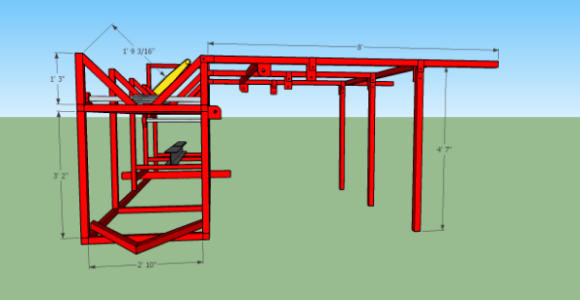 Firewood Processor Fabrication Materials
Steel - box iron, - 2x2 square tubing 1/4" thick wall for frame
Channel iron,
Angle iron,
Steel plate, etc.
More Firewood Processor Pictures of the CAD Design Plans
More Updated Firewood Processor Renderings Below
Sprockets on the shafts drive logs down the in-feed. Pitch can be adjusted on the in-feed table by adjustable legs. Hydraulically actuated stop at the end of the in-feed table rocks back the other way to assist with loading the log into the in-feed.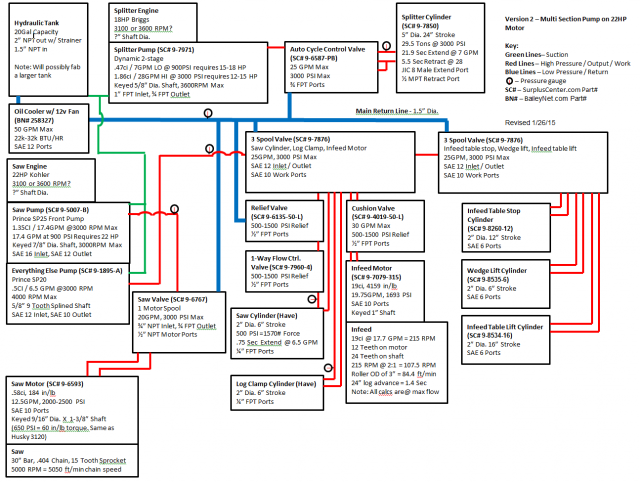 Firewood Processor Splitter
In order to have the wood pass through the middle portion of your boxed wedge the edges of the cross blades need to sharpen so the wood isn't deflected up or down but allowed to pass straight through. There also needs to be enough space so logs don't jam into the sides.
Firewood Processor Wedge
Renderings show the log pressed half way (12") into the wedge and the assumption is made that they would split the entire way back to the butt of the log at such point. The sides for the out-feed need to be wider to avoid jamming.
That's it, these basic plans are being provided and you can view the complete thread here for additional information and details. Enjoy, and be safe!!!