3pt Hitch Vertical Wood Splitter Plans
Our 3-point hitch vertical log splitter plans include universal instructions for Tractor hydraulic or PTO driven wood splitters, and 3pt hitch plans for category 0, 1, 2, 3, and 4, 3pt hitch systems as well.


Low Low Prices!!!
Purchase A Set Of CAD Design 3-pt Log Splitter Plans Today!
No matter what your needs, these plans include all inclusive instructions in each set of wood splitter plans to get you set up right based on your equipment requirements.
The three-point hitch is a widely used hitch system for attaching accessories to tractors and other machinery. The three points on the hitch system resemble a triangle or the letter A.
The three-point attachment system is a simple way to securely connect a wood splitter to a tractor, skid-steer, or other machine with the sturdy 3-point linkage system.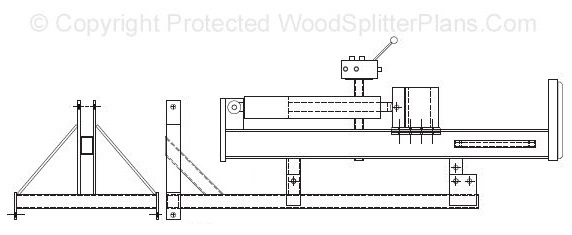 With a three-point hitch, the tractor carries the weight of the wood splitter. The 3pt hitch's simple hookup and universal utility have become industry standard.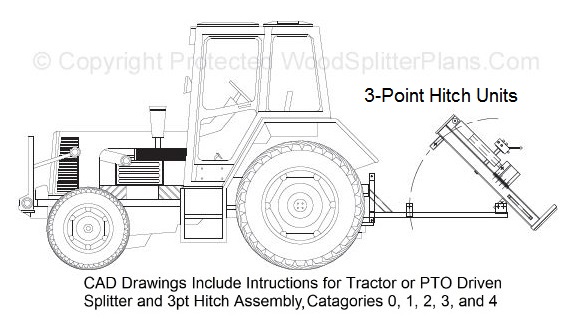 3pt Hitch PTO Driven Hydraulic Wood Splitter Plans
A 3pt PTO driven wood splitter is powered by a power take-off or power takeoff (PTO) which includes any of several methods that can be used to take power from a power source, such as a tractor or skid steer's running engine. This PTO power is used to power an attached implement such as a wood splitter.
Typically this system includes a powered output shaft on a tractor designed to connect the PTO shaft. This resembles a form of drive shaft that can be easily connected to an input shaft on the application, log splitter. This then is used to power the attached equipment.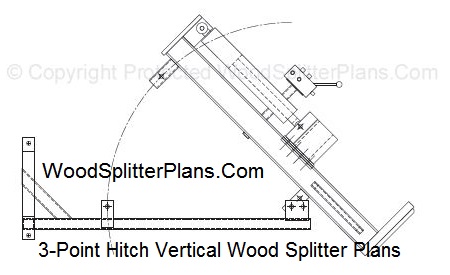 3pt Hitch Tractor Driven Hydraulic Wood Splitter Plans
The 3pt tractor hydraulic wood splitter is designed to run off of a tractor's hydraulic system. The tractor's own hydraulic system includes quick coupling detachable hoses that with the use of these couplings are attached to the wood splitters hydraulic system.
The hydraulic system of the wood splitter is then controlled by the wood splitter operator with the hydraulic force supplied by the tractor.