3pt Hitch Plans Categories 0,1,2,3 and 4
Our 3-point hitch design plans are all inclusive and include universal CAD drawings and fabrication instructions for each size of 3pt hitch including categories 0, 1, 2, 3, and 4, 3-Point Hitch Systems.


3-Point Hitch Plans

Categories 0,1,2,3,and 4
Just $3.95 Buy Now!
---

---
pdf plans are delivered to your PayPal email address.

No matter what your needs, these plans include all inclusive instructions in each set to get you set up right based on your equipment requirements.
The three-point hitch is a widely used hitch system for attaching implements and accessories to tractors and other machinery. The three points on the hitch system resemble a triangle or the letter A.
The three-point attachment system is a simple way to securely connect an implement like a wood splitter, plow, cultivator, trailer hitch, etc. to a tractor, skid-steer, or other machine with the sturdy 3-point linkage system.
3-Point Hitch CAD Design Plans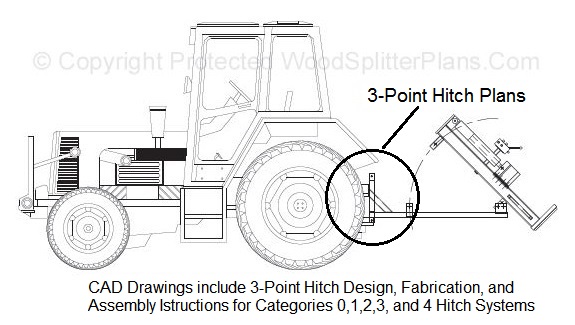 With a three-point hitch, the tractor carries the weight of the wood splitter. The 3pt hitch's simple hookup and universal utility have become industry standard.
Low Low Prices!!! Purchase Log Splitter Design Plans Today!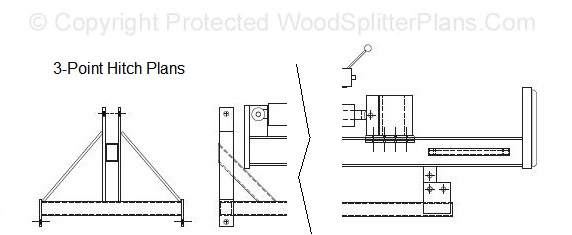 3pt Hitch Design Plans Categories 0, 1, 2, 3, and 4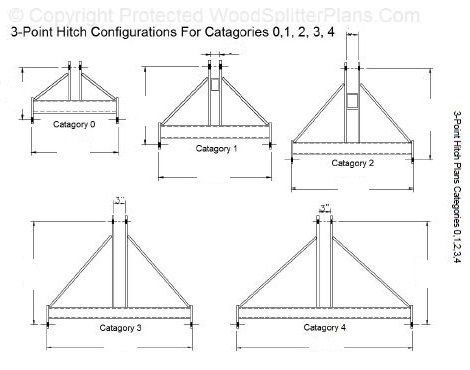 ---
Our 3-Point Hitch Design Plans list below shows what's included in our 3pt hitch plans for purchase:
Warning: Fabrication activities can be dangerous and the author of these wood splitter plans holds no liability whatsoever for the use of these plans and the operation of this equipment being constructed. These plans are offered as a reference and all activities encountered with the construction and operation is the sole responsibility and liability of the user. Author assumes no responsibility for liability or accuracy whatsoever!
Table of Contents 3-Point Hitch Categories 0,1,2,3,& 4
Tractor 3-Point Hitch with wood splitter attached Cover CAD Overview
CAD Elevation Views, 3pt Hitch and connection example to wood splitter
Table of Contents 3-Point Hitch Construction
Disclaimer and Notes
Bill Of Materials, 3pt Hitch Fabrication For Categories 0,1,2,3,4
3-Point Hitch Category Identification and Fabrication Instructions
3-Point Hitch Implement Attachment Instructions, Categories 0,1,2,3,4
Category 0 3pt CAD Frame Design Sheet 1
Category 0 3pt CAD Frame Fabrication Sheet 2
Category 1 3pt CAD Frame Design Sheet 1
Category 1 3pt CAD Frame Fabrication Sheet 2
Category 2 3pt CAD Frame Design Sheet 1
Category 2 3pt CAD Frame Fabrication Sheet 2
Category 3 3pt CAD Frame Design Sheet 1
Category 3 3pt CAD Frame Fabrication Sheet 2
Category 4 3pt CAD Frame Design Sheet 1
Category 4 3pt CAD Frame Fabrication Sheet 2
Category Configuration Measurement Drawings For Categories 0,1,2,3,4
WoodSplitterPlans.Com