18 Ton Horizontal Wood Splitter Plans
This set of plans is for a hydraulic horizontal 18 ton wood splitter (AS SHOWN IN PICTURE BELOW) that tows behind a vehicle. It is a simple construction plan that can be put together from scrap materials you can find often at your local scrap yard metal recycler.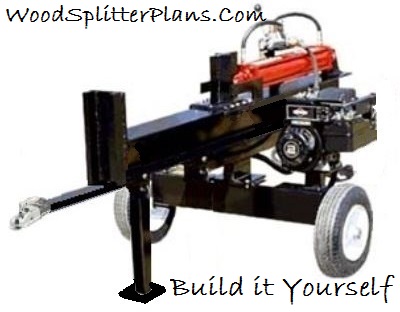 With a basic I-beam construction, along with some square tubing and channel steel you can piece together the main beam assembly and add scrap yard axels, rims, and tires for your main structure.
From there you assemble the hydraulic tank that will become the center base where you attach your beam assembly and axels to give you your main structure for the motor and hydraulics.
Most of your investment for this horizontal hydraulic log splitter will be in the power unit, hydraulic cylinder and pump. Aside from that the I-beam is the biggest hunk of steel you need. From there you will be able to fabricate a lot of the rest from many variables from your scrap yard to put together the splitting wedge, towing tongue, hydraulic tank, log butt plate, and peg leg with foot. Build it yourself and save $.
Purchase these plans here for just $4.95
Build-it-yourself 18 Ton Horizontal Wood Splitter Plans WoodSplitterPlans.Com

Purchase with PayPal - Just $4.95 >>

click return to merchant link at bottom of page after checkout for purchase details

Pay By PayPal or Credit Card

 download link sent to your paypal email address
18 Ton Log Splitter Plans Include:
WHAT'S INCLUDED IN THE PLANS

PAGE #

COVER

TABLE OF CONTENTS

SUMMARY

BILL OF MATERIALS

B.O.M. CONTINUED, WELDING NOTES, 3D VIEW

BEGIN: ASSEMBLY INSTRUCTIONS

HYDRAULIC TANK ASSEMBLY

ENGINE AND HYDRAULIC PUMP ASSEMBLY

BEAM ASSEMBLY

HYDRAULIC TANK ASSEMBLY AND SCHEMATIC

ENGINE AND PUMP ASSEMBLY

18" LOG SPLITTER OVERVIEW SCHEMATIC

24" LOG SPLITTER OVERVIEW SCHEMATIC

BEAM ASSEMBLY FOR BOTH 18" AND 24" LENGTH LOGS

WEDGE AND CYLINDER ASSEMBLY

SPLITTING WEDGE AND GUIDE PLATE ASSEMBLY

HYDRAULIC SYSTEM

HYDRAULIC SYSTEM ASSEMBLY

TONGUE AND LEG ASSEMBLIES

OVERVIEW SCHEMATIC

1

2

3

4

5

6

6

6

7, 8, 9

10

11

12

13, 14, 15

16

16, 17, 18, 19

20, 21

21

22

23
18 Ton Hydraulic Log Splitter Features
This 18 Ton Log Splitter is designed to be pulled behind a vehicle for transport
Trailer hitch tongue can be whatever size you desire, generally 1 7/8" or 2"
Plans include designs and dimensions for 18" log splitter and 24" log splitter
Low 10.5 Second Cycle Time for 18" Log (full extend and retract no load)
Low 13.5 Second Cycle Time for 24" Log Model
Heavy Duty All Steel Construction
Heavy Duty Main Splitter I-Beam
Comfortable Working Height Ergonomic Splitting Platform
Peg Leg Locks Into Place for Simple Use While Not Attached to a Vehicle
Simplify the winter firewood project now!
WoodSplitterPlans.Com