Wood Splitter Owners Manuals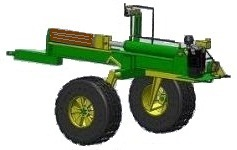 We offer a # of PDF Owners Manuals for commercially produced wood splitters, so check out our list of wood splitter owners manuals to see if the one your looking for to match your log splitter is here for free download.
Firewood Splitter Owners Manuals.
Right click on your desired manual and select save as.
Log Splitter Owners Manuals
Find your log splitter owners manual here in pdf format for download. Select from our large supply of log splitter operators manuals to find your wood splitter guide for information on operation and maintenance instructions for your specific unit.
Log Splitter Owners Operators Manuals
Other Model Brands, Log Splitter Owners Manuals
How to Build a Log Splitter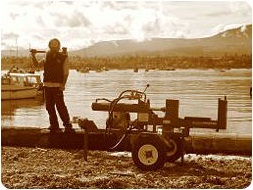 Splitting logs for many northerners is a necessary process in preparing for the long winter months ahead if you will require firewood for warmth. This can be a tough job with some of the north American hardwoods
Fortunately, log splitting can be accomplished without the labor intensive ax or chainsaw and sheer manpower and elbow grease.
Logs can be split with a hydraulic log splitters that you can build yourself. Try these steps to build your own wood and log splitter.
Draw or purchase your log splitter plans. A log splitter is basically made of an engine, a frame and splitter head, a hydraulic ,cylinder, oil pump and a valve system with hoses.
Prepare a wheeled metal trailer type structure to put your log splitter on. This can allow you to tow your log splitter to remote jobs sites or closer to your wood pile you need to split.
Attach an electric or gas powered engine to a 2-stage hydraulic oil pump that can pump 3 gallons per minute at 2500 PSI.
Place a valve on a hydraulic cylinder that powers a piston. The typical cylinder is two to three feet long and has a diameter of 4 inches.
Connect a hydraulic hose to the valve and the oil pump. When the pump is active, high-pressure oil will go to the valve. Use the valve to adjust the hydraulic cylinder's movement to control the log splitter travel. The pressure of the moving oil will drive a piston and a cutting wedge into the log to split it.
Attach hoses to the fittings on the top of a hydraulic oil tank. Hydraulic oil can be drawn from the tank and through the hose to feed the hydraulic pump and cylinder.
Weld together a V-shaped log tray on the frame to hold logs in place for splitting. Arrange the pieces so that the hydraulic cylinder rod travels over them when activated.
Attach the cutting head or wedge to the cylinder rod or fix it to the end of the frame. Depending on which mounting location your chose, the other end needs a stopper plate for the log to rest against or, a pusher plate for the cylinder to push the log with.
WoodSplitterPlans.Com