Wood Splitter I-Beam Dimensions
Getting that wood splitter that you are about to build to stand the test of time requires a few components to be sized properly in order to withstand the force you will be submitting it to.
The I-Beam is a big factor here and making sure you have what you need in size and weight will insure nothing gets bent!
The I-Beam is a Key Hydraulic Log Splitter Component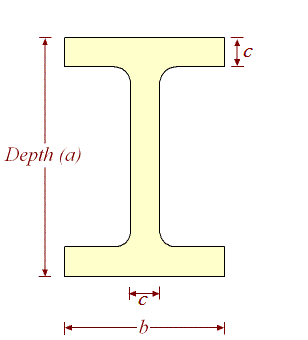 The I-Beams are identified by:
W DEPTH (inches) ×
WEIGHT PER UNIT LENGTH (pound force per foot)
For Example: W6 × 25 is an I-Beam with a Depth of 6.38 inches in the chart below, and having a Nominal Weight per Foot of 25 lb/ft.
These three units a,b,c, are calculated in combination to determine the tonnage capacity of the wood splitter I-Beam.
Wood Splitter I-Beam Characteristics:
Wide Flange (W) - & - Miscellaneous Shapes (M)


ANSI
Designation
A
Depth In Inches
B
Flange Width Inches
C
Web Thickness Inches
Weight Lbs.
Per foot
20 Ft. Length
40 Ft. Length
W4 x 13
4.16 4.060 .280
13.0 260 520
M4 x 13
4.00 3.940 .254
13.0 260 520
W5 x 16
5.01 5.000 .240
16.0 320 640
M5 x 18.9
5.00 5.003 .316
18.9 378 756
W5 x 19
5.15 5.030 .270
19.0 380 760
M6 x 4.4
6.00 1.844 .114
4.4 88 176
W6 x 9
5.90 3.940 .170
9.0 180 360
W6 x 12
6.03 4.000 .230
12.0 240 480
W6 x 15
5.99 5.990 .230
15.0 300 600
W6 x 16
6.28 4.030 .260
16.0 320 640
W6 x 20
6.20 6.020 .260
20.0 400 800
W6 x 25
6.38 6.080 .320
25.0 500 1000
M8 x 6.5
8.00 2.281 .135
6.5 130 260
W8 x 10
7.89 3.940 .170
10.0 200 400
W8 x 13
7.99 4.000 .230
13.0 260 520
W8 x 15
8.11 4.015 .245
15.0 300 600
W8 x 18
8.14 5.250 .230
18.0 360 720
W8 x 21
8.28 5.270 .250
21.0 420 840
W8 x 24
7.93 6.495 .245
24.0 480 960
W8 x 28
8.06 6.535 .285
28.0 560 1120
W8 x 31
8.00 7.995 .285
31.0 620 1240
W8 x 35
8.12 8.020 .310
35.0 700 1400
W8 x 40
8.25 8.070 .360
40.0 800 1600
W8 x 48
8.50 8.110 .400
48.0 960 1920
W8 x 58
8.75 8.220 .510
58.0 1160 2320
W8 x 67
9.00 8.280 .570
67.0 1340 2680
M10 x 9
10.00 2.690 .157
9.0 180 360
W10 x 12
9.87 3.960 .190
12.0 240 480
W10 x 15
9.99 4.000 .230
15.0 300 600
W10 x 17
10.11 4.010 .240
17.0 340 680
W10 x 19
10.24 4.020 .250
19.0 380 760
W10 x 22
10.17 5.750 .240
22.0 440 880
W10 x 26
10.33 5.770 .260
26.0 520 1040
W10 x 30
10.47 5.810 .300
30.0 600 1200
W10 x 33
9.73 7.960 .290
33.0 660 1320
W10 x 39
9.92 7.985 .315
39.0 780 1560
W10 x 45
10.10 8.020 .350
45.0 900 1800
W10 x 49
9.98 10.000 .340
49.0 980 1960
W10 x 54
10.09 10.030 .370
54.0 1080 2160
W10 x 60
10.22 10.080 .420
60.0 1200 2400
W10 x 68
10.40 10.130 .470
68.0 1360 2720
W10 x 77
10.60 10.190 .530
77.0 1540 3080
W10 x 88
10.84 10.265 .605
88.0 1760 3520
W10 x 100
11.10 10.340 .680
100.0 2000 4000
WoodSplitterPlans.Com