Firewood Storage Rack Plans
Building a firewood storage rack is a project most handymen can tackle easily.
With common shop tools, this is a project that can take on many approaches since the style, materials, and size are variable selections used depending on what you already have to work with around your workshop or home.
Another options is whether you want a roof structure over your wood to keep it dry. In many cases, the low cost of adding a roof could pay off when you're trying to light your fire with dry materials instead of wet.
How to Build a Cheap, Good-Looking Firewood Rack
Firewood racks can move your firewood storage issues into the plus column by providing a clean, covered, convenient, place to store your fire wood safely.
If you enjoy using a fireplace or fire pit, whether it be for heat to warm your house, cooking, or fireplace esthetics and ambiance, then having plenty of firewood in close proximity is a must. You want an option for storing your firewood which is both functional and neat but also looks good.
See What Online Firewood Rack Plan Searches Can Reveal For Guidance
Video tutorials and written firewood rack plans are all over the internet. Do a simple search and no doubt you will find something you would like to build.
Wood Construction Firewood Storage Rack Plans Search
Video Tutorial, Firewood Storage Rack Design Plans
Tons of Options Exist For Firewood Rack Styles
There are several things to consider when designing a rack to store firewood. Pick the style of firewood rack you prefer to build carefully so that your final construction will be to your liking, and a good fit for your yard or home.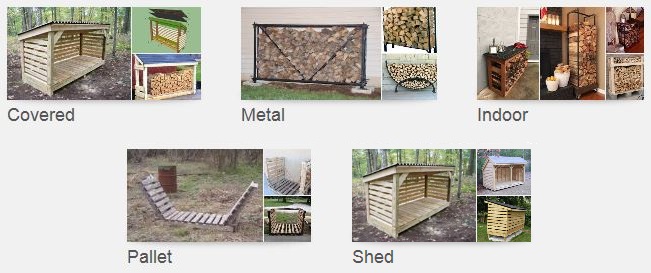 With all the options available, covered, open, metal, wood, indoor, outdoor, pallet style, shed style, there is no doubt that with careful consideration, you will find the perfect plans to a firewood rack you can build that fits your needs.
Carefully consider what size firewood rack you need before building one.
How much firewood do you go through?
Make sure you build one big enough to hold the amount of wood you need
Decide where you want to put your firewood rack, keep it accessible.
Make sure it will fit where you want it.
Protecting Your Firewood From The Elements
It is a good idea to build a firewood rack that protects your seasoned (dried) firewood from the weather. Weather it be hard woods or soft woods, this means keeping water off that otherwise would absorb into the wood making it hard to light. This will also cause a lower burning temperature which will produce more smoke. Ideally, your wood should be kept dry off the ground and open to the atmosphere to allow airflow.
A smaller firewood rack can sit right next to where you use the wood, and can be a simple box, cloth hanging bag, or a cast iron, steel, copper or metal log bin frame. Something simple that sits by the fire and looks good does the trick.
Typically storing your wood on a porch, under the eaves, by the side of your house, in your garage, or in a back yard rack or shed are all common solutions.
Cheap And Quick Solution To Firewood Storage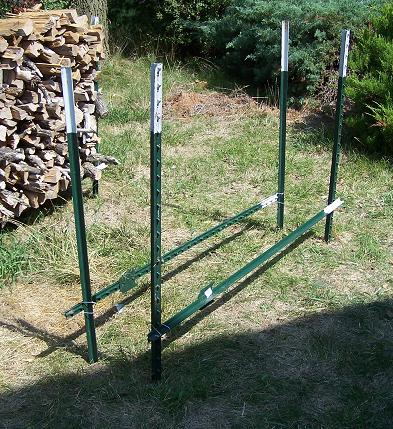 Need to get a quick storage rack solution up right now?
You can improvise a homemade storage rack by driving four t-stakes into the ground and laying long treated 4x4 fence posts on the ground to elevate the wood, or use additional t-stakes tied in between.
You can also just lay metal bars or fence posts on the ground side by side and stack your wood on top of that. Make sure you separate your wood by several inches from the ground to induce good airflow around your wood pile and keep moisture loving bugs off.
You should also cover your wood pile with a water-repellant tarp or cloth to protect it from the rain and other elements like snow. Do this and you will find yourself with a good supply of seasoned wood for your fire.